An Interview with our Quality Control Associate, Shannan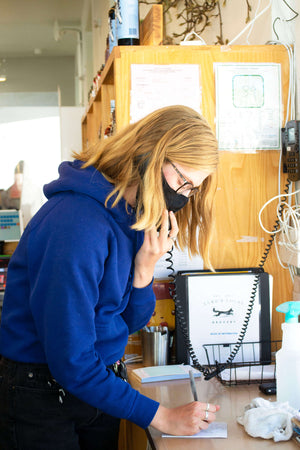 Interview with our Quality Control Associate, Shannan
Hi Shannan! Feel free to introduce yourself and tell us what your title is here at Luke's Local.
 Hi! I'm Shannan and I'm the Quality Control Associate, aka QC, here at Luke's.
 What first drew you to work at Luke's Local?
 I love good food and good community! Simple as that. It seemed like a natural next plan of action to look for a grocery job and that's when I found the cashier position listed at Luke's. I was immediately drawn by the team page, the day I applied I think I read through almost everyone's little blurb. I could tell that Luke's was exactly the place of good food and good community that I was looking for.
Can you tell us a little bit about what your job here entails?
 By job as QC encompasses a whole slough of things. My main responsibilities include overseeing delivery and pickup orders for the Luke's Local app - making sure they are are packed up with precision and are delivered on time, as well as ensuring the accuracy of our inventory by doing things like stock-takes, receiving invoices, and making on the spot adjustments. However, you can also find me helping out at the cash register, packing orders, making coffee and taking sandwich orders, or hanging out in the parklet snacking on a break.
What are some of your favorite go-to products at Luke's?
 If I'm looking for something sweet I'll go for either a Hu chocolate bar or a pack of Wholesome Bakery sandwich cookies, I have tried every single flavor and they are all DELICIOUS! If I need something quick to fuel me up I can never go wrong with the Luke's vegan breakfast burrito, they are too dang good. The Pacific Pickles Mother's Puckers I am addicted to, by far the best pickles out there and a perfect snack to go along with a Luke's sandwich.
Do you have a favorite combo that you grab for a quick dinner?
 Easy. A box of pasta with a jar of Bianco DiNapoli tomato sauce and whatever leftover veggies that I have in the fridge.
I know you have a blog of your own that you work on when you're not at work, can you tell us a little bit about it?
 I do! I started it a little over a year ago with the intention to share recipes, travel adventures, information around sustainability and the climate crisis, living simply, and the beauty of life. As it stands right now it's mostly recipes; cookies, muffins, porridge, and more! There are also some gallery pages of photos I've taken over the past few years. At the end of the day it's simply a place where I share things that I love and am passionate about. 
How did you first get interested in the zero waste movement?
 It was almost 4 years ago—wow, I can't believe it's been that long—when I saw a Vox video about Lauren Singer, owner of Package Free Shop, and an avid Zero Waster. When I watched that video in the summer of 2017 it was actually the second time I had seen it but something about it that time lit a spark in me.
It really just snowballed from there as I started to take a look at my plastic usage, my consumption of animal products, my shopping habits, and more; slowly but surely I took a long hard look at everything in my life and changed my ways to align with my true values. I
went from someone who would get Starbucks daily, go to the mall every few weeks, eat nearly anything to buying as much as I could plastic free and package free, cooking from home, buying way less and buying second hand. I am still constantly learning and growing in the realm of sustainability, but now shy away from labeling myself as "zero waste" and instead think of myself as "Earth minded".
It can get hard sometimes but there are two things that keep me going 1) knowing that I don't need to be perfect or do it all, and 2) hearing when others are inspired by me, there is truly no better feeling.
What a good place to wrap up - thank you Shannan! We're so happy to have you on the Luke's Local team.
Leave a comment