Make it at Home: Whipped Ricotta & Tomato Toast Recipe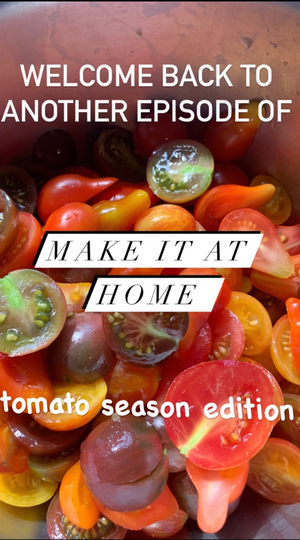 Ingredients

Marinated Tomatoes
2 cups cherry tomatoes, halved
3 tablespoons extra virgin olive oil
2 tablespoons balsamic vinegar
1/2 cup fresh basil, roughly chopped
2 tablespoons fresh thyme leaves
1 clove garlic, grated
kosher salt and black pepper
Lemon Thyme Honey
1/4 cup honey
2 tablespoons fresh thyme leaves
1-2 tablespoons lemon juice
Ricotta + Toast
1 loaf Rize Up sourdough bread, sliced
2 cups whole milk ricotta cheese from Bellwether Farms

Instructions
1. To make the tomatoes, combine all ingredients in a bowl and season to taste with salt and pepper. Let sit 10-15 minutes or up to overnight in the fridge. Bring to room temp before serving.
2. To make the honey, combine all ingredients in a glass jar. Season with salt and black pepper.
3. Whip the ricotta in a food processor until smooth and creamy. Season with salt. The ricotta can be kept in the fridge for up to 3 days.
4. When ready to serve, preheat your grill to high heat or preheat your oven to 400° F. Place the bread on a baking sheet and drizzle with olive oil on both sides of each slice, season with salt. Place the bread on the grill and grill both for about 2-3 minutes per side or until lightly toasted. Remove from the grill.
5. Spread the ricotta over the bread. Top with tomatoes and honey!
Leave a comment