Fox Club Loyalty Program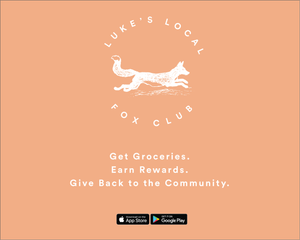 Get Groceries. Earn Rewards. Give Back to the Community.
Welcome to the Fox Club - the new Luke's Local loyalty program that's designed to give back to our customers and our community in a meaningful way. We're so excited to be able to introduce a program focused on giving back to the community that has supported us since our start in 2010. 
We started in food delivery and then moved into retail. Over the past 9 years, we've taken our time to grow in a sustainable way so that our growth stayed in line with our values and core mission - to help busy people eat well. 
And for us, that doesn't stop at the food we put on our shelves or bring to your door.
In the spirit of the community that inspires us every day,
 we have worked hard to develop a loyalty program that really gives back. Starting this Sunday, every dollar spent at the market or on our mobile app is a point earned. These points go directly back to customers - either as money back in your pocket or as a donation to a local non-profit of your choice.
Happy shopping - and happy giving!
1 Response
Leave a comment