Luke's Local Coffee Grounds Donation Program: Grounds to Ground!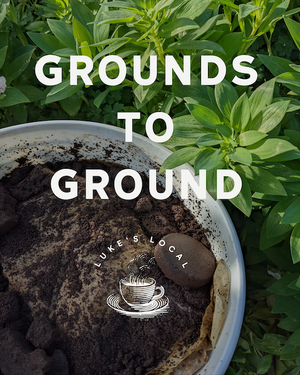 Luke's Local Grounds to Ground Program
Hey, you! Yeah you, with the fresh cup of coffee from Luke's! What happens with the coffee grounds used to make that delicious drink? Not sure? We've got you covered with some piping hot dirt — or should I say compost? — on the subject.
What is the Grounds to Ground program and what does the name mean?
The Grounds to Ground Program is the new Luke's Local coffee ground collection and donation program in partnership with Garden for the Environment, and potentially more gardens to come! Every time coffee is made at our kiosk whether it be a latte or cold brew and everything in between, we collect the spent grounds and donate them to the garden for use in their compost system (read more on this below!).
We found the name Grounds to Ground fitting for this program as the coffee grounds will ultimately end up in the soil to veggies, fruit trees, and other plants of all sorts.
When did this program start? How much is Luke's donating?
We started the coffee ground donation program, aka Grounds to Ground, on Saturday February 5th, 2022, just 3 weeks ago. In that short short amount of time we have donated 153.7 pounds of coffee grounds, that's roughly 7.3 pounds produced per day!
How much of these donated coffee grounds are because of you?
Each double shot (our standard) coffee drink you get from Luke's produces 20 grams of spent coffee grounds. If you get a cup of coffee everyday of the year from Luke's, that is 7,300 grams or ~16 pounds of coffee grounds, just from you!! 
Why did we start this program?
I (Shannan) spearheaded this project because I believe we can always do more with what we already have, it must be the thrifty, frugal old soul in me. We can almost always make or do more with what one may look at as "waste" or purposeless, it's just a matter of perspective, connections, and creativity.
I took the 3 month long Get Up! course, a gardening and composting educator training program, run by Garden for the Environment in fall 2021 and have been volunteering there ever since. I am mostly involved with their food production (veggie beds, weekly harvest box, etc.), but I also know that their composting system is truly the heart of the garden, it's hard not to notice when you are there. I wanted to give back to the garden, as it's already given so much to me, and I saw the coffee ground from Luke's as the perfect opportunity— I mean, how could I pass up hundreds of coffee grounds a month just waiting to be enriching garden compost?
The rest is history in the making!
Leave a comment